RSVP
Click here to RSVP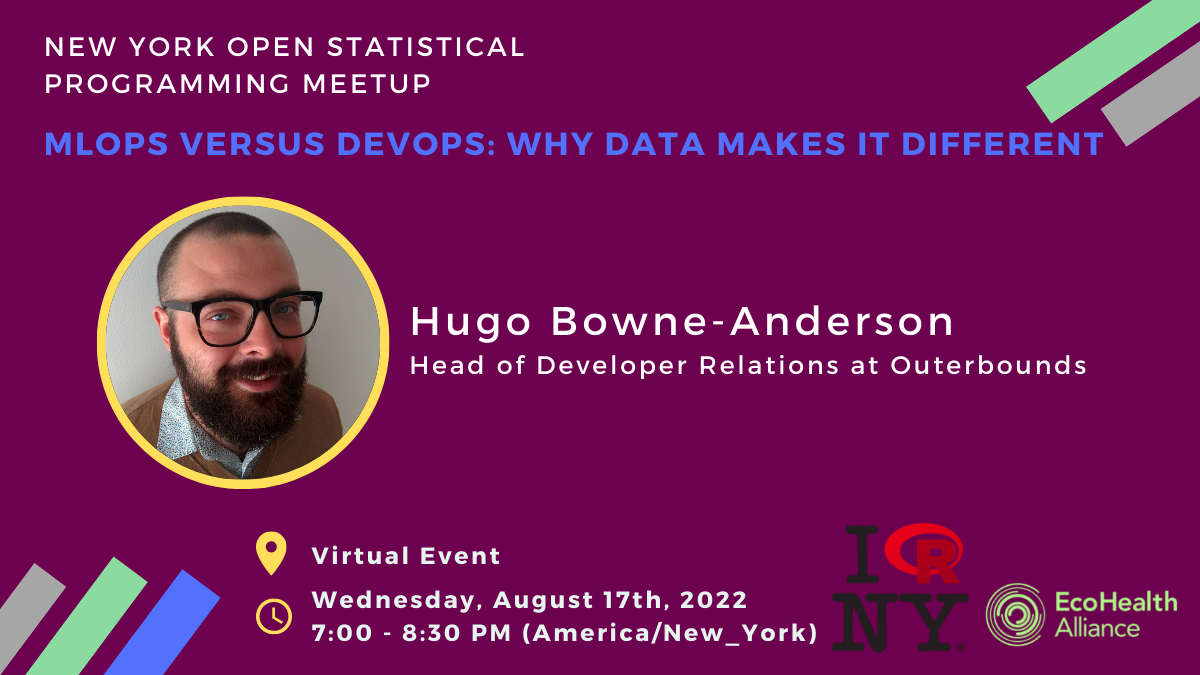 August 17: MLOps Versus DevOps: Why Data Makes it Different
We had planned to hold this meetup in-person, but were unable to secure a venue this month, so back to fully virtual. We'll probably have to revert to virtual-only a few times while we fill out a roster of places able to host us.
Thank you to EcoHealth Alliance for providing the Zoom link.
Conversations during the meetup are encouraged in the monthly-meetup-chat channel in the nyhackr slack.
About the Talk:
There is a pressing need for tools and workflows that meet data scientists where they are. This is also a serious business need: How to enable an organization of data scientists, who are not software engineers by training, to build and deploy end-to-end machine learning workflows and applications independently. The new category of tools, frameworks, and processes is often called MLOps.
In this talk, you'll learn why machine learning applications need special treatment in the first place and why we can't just fold them into existing DevOps best practices. You'll also explore what a modern technology stack for streamlined ML processes looks like, and how you can start applying the stack in practice today.
About Hugo:
Hugo Bowne-Anderson is Head of Developer Relations at Outerbounds, a company committed to building infrastructure that provides a solid foundation for machine learning applications of all shapes and sizes. He is also host of the industry podcast Vanishing Gradients. Hugo is a data scientist, educator, evangelist, content marketer, and data strategy consultant, with extensive experience at Coiled, a company that makes it simple for organizations to scale their data science seamlessly, and DataCamp, the online education platform for all things data. He also has experience teaching basic to advanced data science topics at institutions such as Yale University and Cold Spring Harbor Laboratory, conferences such as SciPy, PyCon, and ODSC and with organizations such as Data Carpentry. He has developed over 30 courses on the DataCamp platform, impacting over 2 million learners worldwide through his own courses. He also created the weekly data industry podcast DataFramed, which he hosted and produced for 2 years. He is committed to spreading data skills, access to data science tooling, and open source software, both for individuals and the enterprise.
The talk will begin at 7 PM America/New_York and we will start admitting people to the event shortly before. Since this is completely remote there will be no pizza but everyone is encouraged to have pizza individually.