RSVP
Click here to RSVP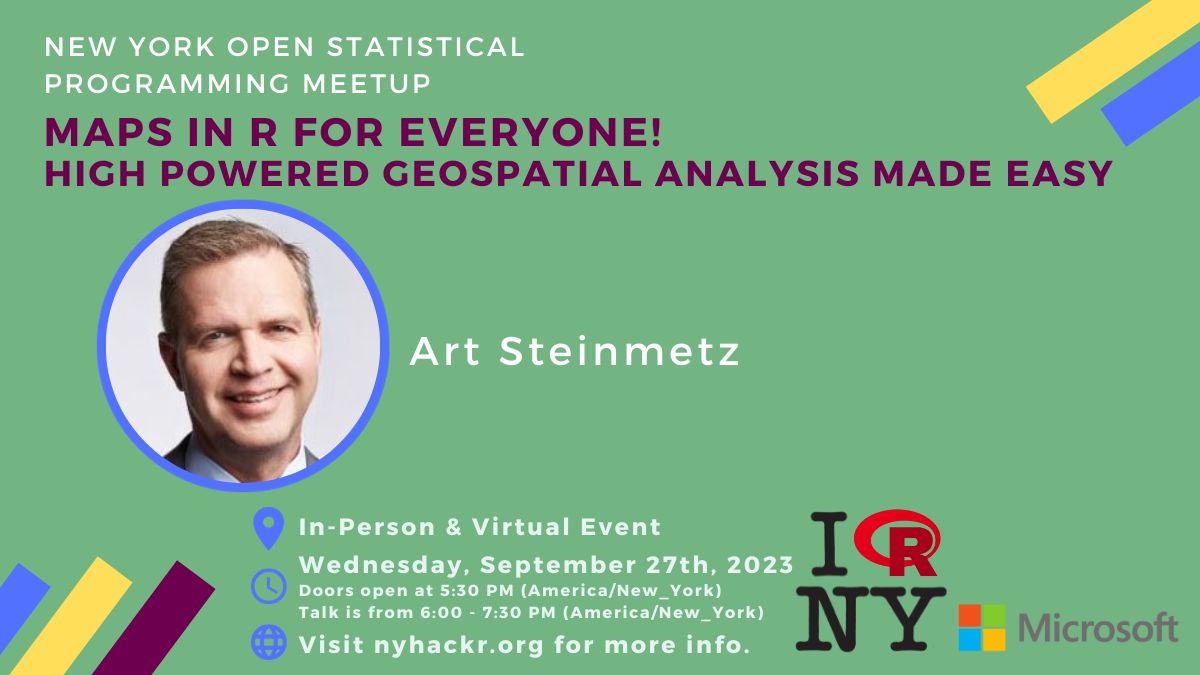 September 27: Maps in R For Everyone! High Powered Geospatial Analysis Made Easy
REGISTER BELOW!
We have a last-minute change and will now have a talk about mapping in R from Art Steinmetz.
Thank you to Microsoft for hosting us.
Everybody attending must RSVP through the registration form at nyhackr.org. There is a charge for in-person and virtual tickets are free.
After the talk we will randomly select two attendees (both in-person and virtual) to receive free tickets to the R in Government Conference taking place October 18-20 at Georgetown University.
About the Talk:
The past few years have seen an explosion in open source geospatial tools for R as well a huge increase in publicly available geospatial data sets. In this talk we will see how just a few lines of code can create an animated flood inundation map modeling the flooding of the Dnipro river delta below the Kakhovka Dam after its destruction.
About Art:
Art is a private investor located in New York City and serves on several boards. He is an avid amateur data scientist and is active in the R statistical programming language community. Art is the retired CEO of OppenheimerFunds. He was with the firm from 1985 until 2019 when it was sold to Invesco. He spent most of his career as a global macro fixed-income investor.
Additionally, Art is passionate about advancing financial and mathematical literacy, which he believes are essential elements of the next generation's success and targets his philanthropy in that direction. He is a board member or "Rock The Street, Wall Street" and the former chair of the Board of the National Museum of Mathematics ("MoMath")
Art holds an M.B.A. in finance from Columbia Business School and a B.A. in Russian language and Slavic Studies from Denison University.
The venue doors open at 5:30 PM America/New_York where we will continue enjoying pizza together (we encourage the virtual audience to have pizza as well). The talk, and livestream, begins at 6:00 PM America/New_York.
Remember, register below!